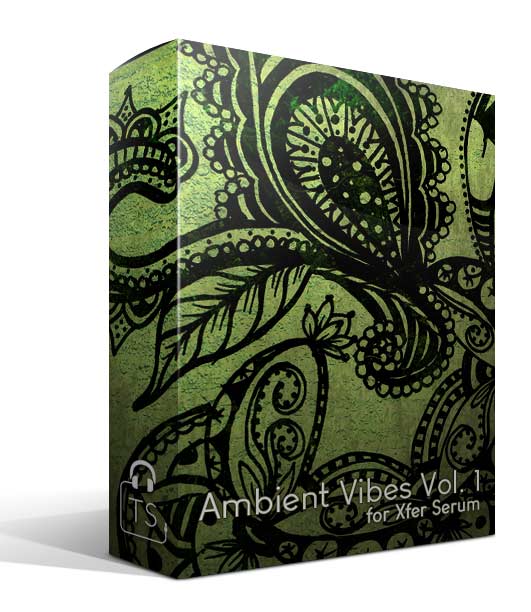 Ambient Vibes Vol. 1 is filled with 25 of the most relaxing, chilled out and trippy presets for Xfer Serum. If you're looking for some bright moments, spacy pads or plucks from heaven; this is the pack you want!
If you like this pack, you should check out Ambient Vibes Vol. 2, this successor of volume 1 is more based on the deeper darker side of ambient!
This demo track contains sounds from Ambient Vibes Vol. 1 & Vol. 2!
INCLUDED IN THIS PRESET PACK
Fill in your name and email to get the demo pack of Ambient Vibes Vol. 1, containing the 3 presets listed on the left, for free!
The download will be sent to your email.
PACK TYPE:
GENRES:
INCLUDED:
NUMBER OF FILES:
ASSIGNED MACROS:

Xfer Serum Presets
Ambient
Pads & Plucks
25
4

We provide our buyer with a description of the product they are buying and the VAT is already included.
When you buy a product, you agree with our End User License Agreement. The payment of our products is done with Paypal or Credit Card (Stripe). If you are familiar with Paypal or Stripe, it'll be easy to finalize the procedure. If you aren't; click here to see how PayPal works.
For some of our packs you can name the price you want to pay for the entire pack. Simply fill in your desired price (minimum of 1 dollar) and the pack will be added to your shopping cart.
At the checkout you can choose between paying with PayPal or Credit Card (Stripe).
You can always access your downloads by logging in to your account. Your download will never expire and the amount of downloads is unlimited.
You can always contact us for any questions or problems you run into, don't be shy!
We want you to ask to be very descriptive about the issue/question so we have a clear picture, making it easier to help you out!
We're quite confident they won't probe you, however there have been incidents of which we're not allowed to speak about.