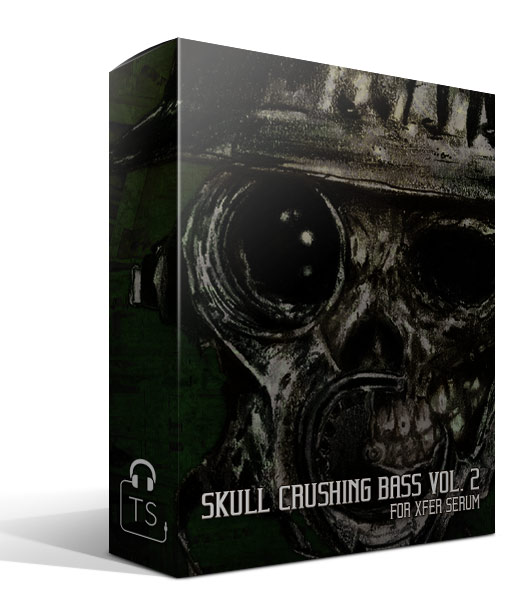 Skull Crushing Bass Vol. 2
Skull Crushing Bass Vol. 2
Skull Crushing Bass Vol. 2 is yet another bass filled Serum pack! Like the first volume, this sound bank is designed to serve all those heavy bass loving producers out there!
These growling basslines, deep subs and woofer destroying presets are all equipped with 4 macro's that will give you complete control over the sound. And, as all our packs, you can pay what you want to make these 25 Serum presets yours!
This demo track contains sounds from Skull Crushing Bass Vol. 1 & Vol. 2!
INCLUDED IN THIS PRESET PACK
Fill in your name and email to get the demo pack of Skull Crushing Bass Vol. 2, containing the 3 presets listed on the left, for free!
The download will be sent to your email.
SKULL CRUSHING BASS VOL. 2

PACK TYPE:
GENRES:
INCLUDED:
NUMBER OF FILES:
ASSIGNED MACROS:

Presets
Bass, Future House, EDM, Techno
Xfer Serum Presets & Wavetables
50 (25 Presets & 25 Wavetables)
4

We provide our buyer with a description of the product they are buying and the VAT is already included.
When you buy a product, you agree with our End User License Agreement. The payment of our products is done with Paypal or Credit Card (Stripe). If you are familiar with Paypal or Stripe, it'll be easy to finalize the procedure. If you aren't; click here to see how PayPal works.
For some of our packs you can name the price you want to pay for the entire pack. Simply fill in your desired price (minimum of 1 dollar) and the pack will be added to your shopping cart.
At the checkout you can choose between paying with PayPal or Credit Card (Stripe).
You can always access your downloads by logging in to your account. Your download will never expire and the amount of downloads is unlimited.
You can always contact us for any questions or problems you run into, don't be shy!
We want you to ask to be very descriptive about the issue/question so we have a clear picture, making it easier to help you out!
We understand, skulls can be quite expensive. The best thing you can do is to work without a headset and aim your speakers away from you. Then stay under -6 decibels at all time, just to be sure.