Valhalla Supermassive is the latest free plugin of Valhalla and it combines delay effects with reverb effects. You can create unique delay sounds, perfect for everyday use. But It also has a couple really weird effects, some even sound like a chorus plugin. Now think of this in combination with the quality you know that Valhalla can deliver, and you get a massive free VST plugin called Supermassive! Let's begin!
The origin of Supermassive
Supermassive is a product of years of developing delay and reverb algorithms by Sean Costello (the main guy behind Valhalla Room, Vintageverb and Plate). You can imagine that during the progress of making those reverbs there are bound to be some algorithms which are not suited for the goal. That doesn't mean they are bad or not useful. To quote Sean Costello; "ValhallaSupermassive is a celebration of those untamed delay algorithms. … They haven't been polished to sound like the "real world." They are unrepentantly digital, and unrepentantly un-natural. The Supermassive algorithms just want to be themselves." Later in the same blog post he states that when he took the pressure off of the algorithms to behave like "normal", ValhallaSupermassive came together quickly.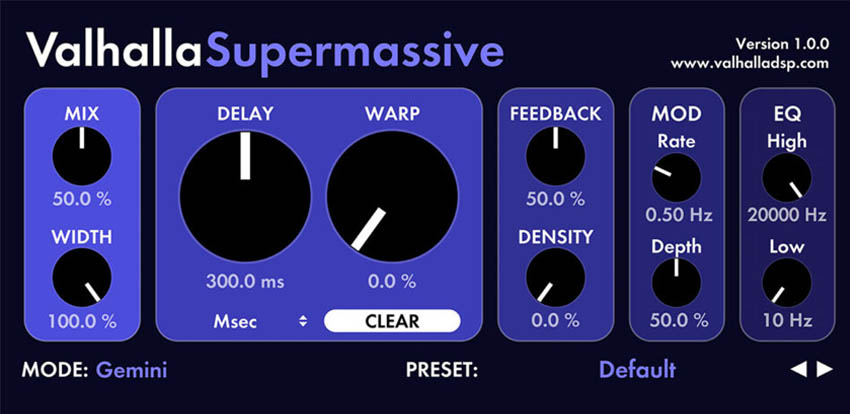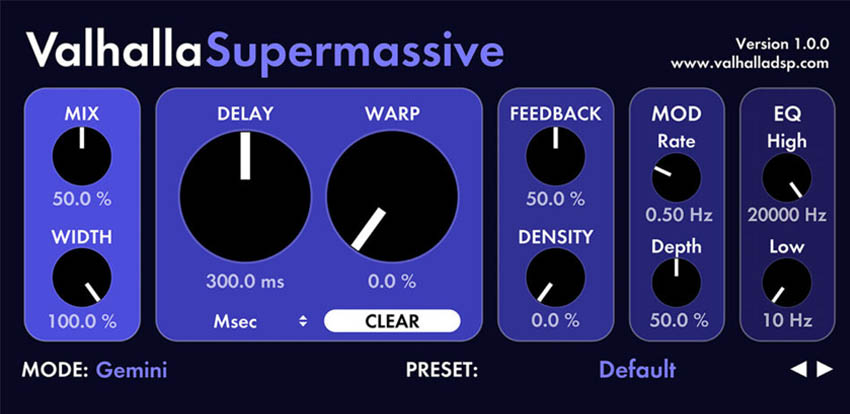 What can this plugin do?
With the origin of Valhalla Supermassive in mind, it will become clear that Supermassive is a combination of weird and unique delay and reverb effects. Personally I've used Supermassive mostly for delay effects so far, since I tend to go to ValhallaVintageVerb or Sanford Reverb for my reverb needs. You can use Supermassive for your basic delays, but I really like to give it some extra "vibe" to the delay and that's where to the power of this free VST plugin lies.
Check out our article with the 5 best free reverb plugins!
The different modes and presets of Valhalla Supermassive
If you're familiar with the products of Valhalla, you know that they always supply you with a decent amount of well organized presets. This plugin has 73 factory presets, divided in 4 main categories: Echoes, Mods, Reverbs and SFX.
The sounds that you get from this plugin are mostly defined by the mode that it's in. It has 8 different modes, named after celestial beings (because the algorithms behind it aren't "real world" sounding). When exploring this plugin I often looked at the description of the mode since it really is your starting point when creating or editing a preset. Here's a quick look at the different modes. (For a more descriptive explanation of each mode, check out the Valhalla blog):
Gemini: This is the most "conventional" of the Supermassive modes. It has a very quick attack time, and a natural exponential decay.
Hydra: This mode has a relatively fast attack time, and a very lush and long exponential decay.
Centaurus: A mode with a slower attack time, a shorter decay time, and a bit of "sustain" to the reverberation.
Sagittarius: A reverb/echo with a very long attack time, depending on the setting of Feedback.
Great Annihilator: Similar to Centaurus, but more massive. Slow attack with a fair amount of predelay, and super long decay times.
Andromeda: A super massive variant of the Sagittarius mode. Very slow attack with a fair amount of predelay, and decay times that can range into thousands of seconds.
Lyra: Quick attack time, long decay time, and very low echo density.
Capricorn: A larger version of Lyra. Quick attack time, long decay time, and a medium size bowl of echo density.
Here are some free Valhalla Supermassive presets I've made. The download contains 5 basic presets (4 delay and 1 reverb).
How to install custom presets for Valhalla Supermassive
Locate your preset folder, for Windows it's located here: C:\ProgramData\Valhalla DSP, LLC\ValhallaSupermassive\Presets
Place the Typhonic Samples – Supermassive Basics free presets folder in the "Designer" Folder. (Or any other folder that you've downloaded.)
Reload your plugin.
If you can't find your Valhalla Supermassive preset folder, open the plugin and choose "save as" at the preset manager. This will open the folder on your system. Or search your system for "Valhalla DSP, LLC".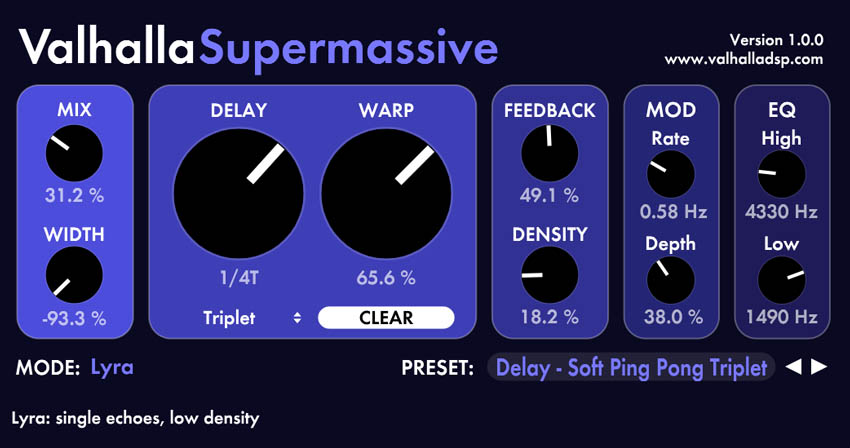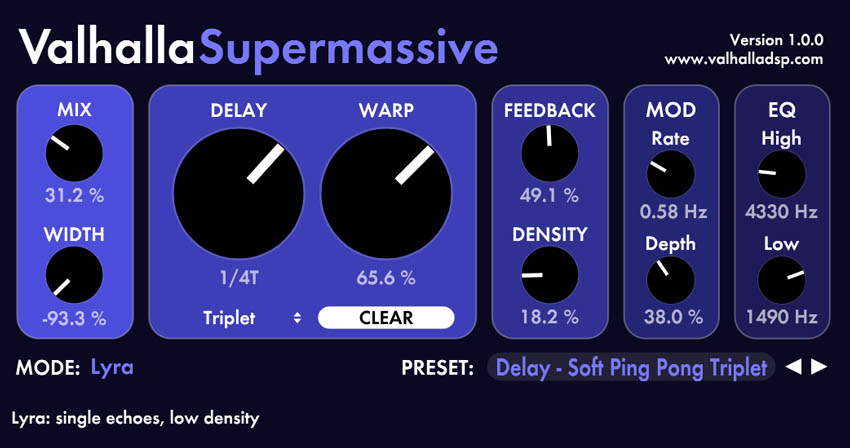 A fantastic free effect plugin
In short, Valhalla Supermassive is a great plugin that will definitely trigger your creativity! I will probably not use it for standard delay or reverb effects, but it will be very handy for creating one of a kind delay effects for genres like ambient and LoFi. It is really a nice addition to your effect arsenal and since it's free, there's nothing to lose! Have you used it already? Let me know what you think of Valhalla Supermassive!